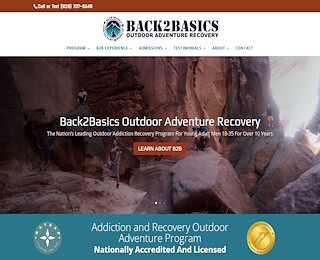 The Benefits of Top Wilderness Drug Rehab for Adults
The best adventure drug and alcohol rehab programs are one of the most effective alternatives to overcome severe conditions such as drug or alcohol addiction. These programs include a variety of fun and challenging activities that help to enhance the physical and mental strength of the participants. These activities combined with drug counseling and therapy effectively help to achieve sobriety.
The main benefit of wilderness therapy for addiction treatment is learning new habits that help the graduate live a healthy substance-free life. However, wilderness drug rehab for adults offers a variety of additional benefits that are essential for you to know about.
Top-5 Benefits of Wilderness and Adventure Drug Rehabs
A Safe Environment
These programs like the one we offer at Back 2 Basics take place in controlled environments, free from the temptation for the participant to use drugs or alcohol. This allows them to effectively eliminate physical dependency as the program progresses. Also, the total detachment of the person from their natural habitat helps them to move away from the negative habits, places, and behaviors that lead to consumption. Thus, they will be able to adopt new healthy patterns that will help them to live in sobriety.
Clinically Intensive
People don't usually associate being in nature with therapy. This helps participants acquire knowledge and healthy habits without even realizing it. Every activity in a top adventure treatment for addiction has a purpose and pursues a therapeutic goal, such as strengthening self-esteem, teamwork, or improving interpersonal relationships. However, the fact of being outdoors or being in contact with nature helps the person not to reject learning. Thus the person is intensely learning and growing personally through fun activities in nature.
Personal Growth
Graduating from an outdoor addiction program helps people to improve themselves. In each activity, the participant acquires an individual or group triumph that allows them to empower themselves and raise their self-esteem. Besides, at the end of the therapy people feel proud of themselves for thinking, exercising, eating, and behaving better. Even the physical improvement for adults is significant, as they learn to be more active in contact with nature, thus improving their overall well-being.
Knowledge and Skills
There are many new knowledge and skills that people learn in a good wilderness therapy rehab for men. In addition to tools to stay sober, other skills are acquired such as problem-solving, learning to organize, discipline, self-management, and critical thinking. This will allow them to better cope with new challenges that life presents, and thus overcome any threat that may induce them to relapse into consumption.
Self-Realization
The experience of an outdoor rehab program is a journey of personal self-discovery. These programs help clients reflect on their lives and learn what they need to change to live a healthy and happy life. In the end, they will become whole beings, full of tools and confidence, ready to lead a sober and happy life.
Rely on the Best
If you are looking for the best Outdoor Adventure program to overcome uncontrolled drug or alcohol use, you are in the right place. Back 2 Basics is the leading outdoor therapy to free you from addiction, and we're ready to help you get sober in a fun and healthy way. Call us and learn more about our treatment program